The Saanich Predators are a junior "B" ice hockey team based in Saanich, British Columbia, Canada. They are members of the South Division of the Vancouver Island Junior Hockey League (VIJHL). The Predators play their home games at George Pearkes Arena. Norm Kelly is the team's president and general manager, Sam Waterfield is the coach and they are captained by forward Jack Rachwalski.
History
The Braves joined the league in 1967 as an original VIJHL team. In its VIJHL history, the team has won the Cyclone Taylor Cup once, in 1976. The Braves have won the Brent Patterson Memorial Trophy seven times; in 1976, 1978, 1979, 1980, 1984, 1988, and 1996. They won the Andy Hebenton Trophy ten times, as the team with the league's best regular season record in 1975, 1976, 1977, 1978, 1979, 1983, 1987, 1994, 1995, and 1996.
On July 8, 2020 the organization announced it would be changing the team's nickname stating
"The Saanich Junior Braves name is not respectful to our First Nations and does not reflect the valued relationships we hold with local First Nations communities or with our First Nations players. We have decided to rename the team and have started a process to develop a name that upholds our core values. Community, excellence and equality are central to everything we do as a hockey team and we commit to our players, families, fans and the whole community to use the changing of our name as an opportunity to contribute to and amplify positive dialogue about race and equality in Canada," [1]
On October 2nd the team announced they would be renamed the Saanich Predators.[2]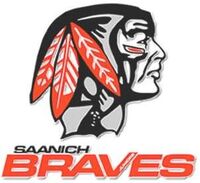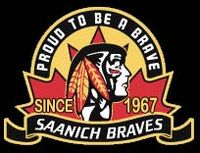 Season-by-season record
Note: GP = Games played, W = Wins, L = Losses, T = Ties, OL = Overtime Losses, Pts = Points, GF = Goals for, GA = Goals against
Season
GP
W
L
T
OL
Pts
GF
GA
Finish
Playoffs
1999–00
40
6
31
3
-
15
160
268
4th, South
2000–01
48
3
43
2
-
8
127
317
4th, South
Lost in Division Semifinals, 2-3 (Panthers)
2001–02
48
14
29
5
-
33
173
255
4th, South
Lost in Division Semifinals, 0-3 (Panthers)
2002–03
42
10
29
3
-
23
107
227
3rd, South
Lost in Division Semifinals, 1-4 (Panthers)
2003–04
45
15
27
3
-
33
3rd, South
Lost in Division Semifinals, 1-4 (Cougars)
2004-05
48
19
27
-
1
39
148
184
4th, South
Lost in Division Semifinals, 2-4 (Panthers)
2005-06
42
29
12
-
1
59
227
136
3rd, South
Lost in Division Finals, 1-4 (Islanders)
2006-07
48
18
27
-
2
38
178
230
3rd, South
2007-08
48
14
33
-
1
29
140
200
3rd, South
2008-09
48
17
26
-
5
39
144
184
3rd, South
2009-10
48
26
19
-
3
59
184
161
3rd, South
Lost Division Semifinals, 3-4 (Victoria)
2010–11
44
15
23
-
6
36
132
170
3rd, South
Lost Quarterfinals, 2-3 (Glacier Kings)
2011-12
42
21
15
-
6
48
177
149
2nd, South
Won Quarterfinals, 4-2 (Campbell River Storm)
Lost SemiFinals, 3-4 (Peninsula Panthers)
2012-13
48
30
14
-
4
64
181
140
2nd, South
Won Quarterfinals, 4-2 (Campbell River Storm)
Lost SemiFinals, 3-4 (Peninsula Panthers)
2013-14
48
11
34
1
2
25
112
227
5th, South
Lost Quarterfinals, 0-4 (Comox Valley Glacier Kings)
2014-15
48
17
25
1
5
40
141
180
3rd, South
Lost Div Semifinals, 2-4 (Wolves)
2015-16
48
12
29
2
5
31
133
203
5th, South
Won Wildcard Game 3-2 (Generals)
Lost Quarterfinals 2-4 (Campbell River Storm)
2016-17
48
29
15
1
3
62
191
147
2nd of 5 South
4th of 9 VIJHL
Lost Div Semifinals, 2-4 (Islanders)
2017-18
48
26
17
2
3
57
188
140
1 of 5 Sou
3 of 9 VIJHL
Won Quarterfinals, 4-1 (Islanders)
Won Semifinals, 4-3 (Buccaneers)
Lost League Finals 3-4 (Storm)
2018-19
48
21
17
4
6
77
170
158
3 of 5 Sou
5 of 9 VIJHL
Won Quarterfinals, 4-2 (Islanders)
Lost Semifinals 0-4 (Storm)
2019-20
48
20
21
-
7
47
167
192
4th, South
Lost Quarterfinals 0-4 (Cougars)
2020-21
12
4
6
-
2
10
46
62
4th South
Season cancelled
Season
GP
W
L
OL
SL
Pts
GF
GA
Finish
Playoffs
2021-22
52
16
35
1
0
152
243
33
5th South
Did not qualify
NHL alumni
Awards and trophies
Brent Patterson Memorial Trophy
VIJHL Championship
1975-76, 1977–78, 1978–79, 1979–80, 1983–84, 1987–88, 1995–96
Andy Hebenton Trophy
Regular Season Champion
1974-75, 1975–76, 1976–77, 1977–78, 1978–79, 1982–83, 1986–87, 1993–94, 1994–95, 1995–96
Grant Peart Memorial Trophy
Least Penalized Team
1980-81, 1989–90, 1990–91, 1991–92, 1992–93, 2001–02
Doug Morton Trophy
Leading Scorer
Rob Coldwell: 1974-75
Mike Jones: 1986-87
Garry Elander: 1987-88
Spencer Goodson: 1994-95
Mark Johnston: 1997-98
Ty Jones: 2010-11
Jamie Robertson Trophy
Most Sportsmanlike Player
Mike Schemilt: 1975-76
Murray McLaren: 1976-77
Craig Eversfield: 1981-82
Roy Clark: 1990-91
Roy Clark: 1991-92
1994-95
Dean Golbeck: 1996-97
Trevor Yee: 2008-09
| col2 =
Jamie Benn Trophy
League Most Valuable Player
Larry Lamoureaux Trophy
Rookie of the Year
Spencer Goodson: 1994-95
A.J. Gale: 2002-03
Ty Jones: 2008-09
Jack Palmer: 2010-11
Ray's Sports Centre Trophy
Top Goaltender
Steve Hanna: 1974-75
Mike Duch: 1975-76
Mike Duch: 1976-77
Steve Hanna: 1977-78
Marty Wakelyn: 1978-79
Alf Orton: 1982-83
Shon Hunter: 1986-87
Jacob Matychuk: 1992-93
1993-94
Tanner McGaw: 2011-12
Walt McWilliams Memorial Trophy
Unsung Hero
Steve McKenzie: 1985-86
Ed Pratt: 1987-88
Norm Westhaver: 1988-89
}}
External links
References