SNHU Arena
"SNHU Arena"

Location
555 Elm Street
Manchester, NH 03101
Broke ground
April 2000
Opened
November 15, 2001
Architect
tenants = Manchester Monarchs (AHL) (2001-2015)
Manchester Monarchs ECHL (2015–present)


Manchester Wolves

(

af2

) (2002–present)
Capacity
10,092 (hockey)
9,989 (basketball)
8,647 (end stage)
11,770 (centerstage concerts)
The SNHU Arena (Southern New Hampshire University Arena) is an indoor events arena in Manchester, New Hampshire, and seats just over 10,000 for ice hockey and just under 10,000 for basketball and some concerts. It is home to the Manchester Monarchs of the ECHL and the former home of the American Hockey League franchise of the same name. The University of New Hampshire men's hockey team also plays some of their home games there, annually against Dartmouth College in the battle for the Riverstone Cup, and less frequently against other Hockey East rivals. The Verizon has hosted the 2005 AHL All-Star Game and the NCAA Men's Frozen Four Northeast Regional tournament in 2004, 2007, 2009, 2011, 2013, and 2015.
Both the Boston Celtics of the NBA and the Boston Bruins of the NHL regularly play preseason games at the arena.
The facility was originally known during construction as Civic Arena, and this name still appears on most of the directional signs around town. Its naming rights were sold prior to opening in 2001 and was called Verizon Wireless Arena. On February 2, 2016, it was announced that Southern New Hampshire University had partnered with SMG for the naming rights to the arena, which began on September 1, 2016, for a period of at least ten years.
Despite the naming of the arena theSouthern New Hampshire Penmen men's ice hockey team does not play in the arena.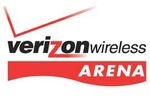 External links
[
]