SC Bern

City:
Bern, Switzerland
League:
National League A
Founded:
1930
Home Arena:
PostFinance Arena
(16,789 places)
Colors:
Black, red and yellow.
General Manager:
Sven Leuenberger
Head Coach:
Larry Huras
Captain:
Ivo Rüthemann
Franchise history
NLA championships:
1959, 1965, 1974, 1975, 1977, 1979, 1989, 1991, 1992, 1997, 2004
Schlittschuh Club Bern (SCB) is a hockey club based in Berne, Switzerland. They currently play in the National League A.
History
The club's history began on November 3rd 1930 as the Bern Sports Club established an ice hockey section; that section began playing on January 1st 1931.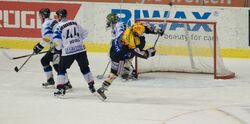 SC Bern is a highly popular team that regularly fills its home arena, the PostFinance Arena, which is, at nearly 17,000 places, one of the biggest in Europe. They are the holders of the European record for the biggest attendance, averaging 15,994 in 22 home games in 2006. This success at the gates is in good part linked to the on-ice success of the team, that clinched eleven championships in history.
On September 30, 2008, SC Bern faced off against the NHL's New York Rangers to celebrate 100 years of ice hockey in Switzerland. 49 years since the Rangers' last visit to Switzerland, they beat home team SC Bern 8-1 in front of a sellout crowd. Despite the slanted score, SC Bern played a close game with a 2-0 score at the end of the second. Former Phoenix Coyotes' Canadian-born defenceman Travis Roche scored SC Bern's goal early in the third period, bringing the game to 2-1. SC Bern only allowed two even-strength goal, but couldn't hold the Rangers' power play (6 of 9). SC Bern center Sébastien Bordeleau said "We played for our pride tonight," after the exhibition game. Christian Dubé wore the captain's 'C' because Ivo Rüthemann was injured.
Bern Greats
See also