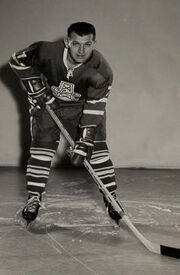 Rudy Migay (born November 18, 1928 in Port Arthur, Ontario) is a retired Canadian ice hockey forward.
He started out in junior hockey with his hometown Port Arthur Flyers in 1944-45 and 1945-46. He then switched to the St Michaels Majors in 1946-47 and won the Memorial Cup. Then in 1947-48 Migay went back home to the Port Arthur West End Bruins. He accomplished the unique feat of winning a second straight Memorial Cup with 2 different teams.
Migay began his National Hockey League career with the Toronto Maple Leafs in 1949. He would play his entire career with the Leafs, leaving the NHL after the 1960 season. The Leafs never traded him as he wished so he never was able to return to the NHL.
He spent two seasons as a player-coach with the senior Port Arthur Bearcats and then three seasons in the minor pros. Migay retired in 1965 and spent one season as coach of the Tulsa Oilers.
Awards
External links