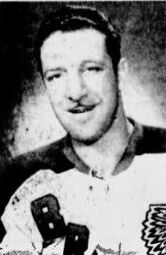 Rosario "Kitoute" Joannette (b. July 27, 1916 in Valleyfield, Quebec - d. October 9, 1998) is a retired Canadian professional ice hockey forward who played 2 games in the National Hockey League for the Montreal Canadiens.
He was a centerman and right winger and spent most of his playing days with the Valleyfield Braves. Joanette was a prolific goal scorer and routinely netted 20 goals-plus per season. In 1944-45, the same season he played his two games with Montreal Canadiens, Joanette led the Provincial Senior League with 45 goals, 56 assists, and 101 points in just 37 games.
He won the Alexander Cup in 1950-51 with the Braves.
After the Braves folded in 1955 Joanette played for the minor pro Trois Rivieres Lions and the senior Cornwall Chevies and Cornwall Colts.
In Joanette's 2 regular season contests with the Montreal Canadiens, he registered just 1 assist.
External links
[
]
Rosario Joannette's career stats at The Internet Hockey Database