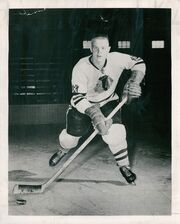 Ron Walter Ingram (b. July 5th 1933 in Toronto, Ontario, Canada) is a former professional defenceman and head coach who played 114 games in the National Hockey League.
A product of the Ontario Hockey Association's Toronto Marlboros, Ingram began his senior career with the Stratford Indians of the Ontario Hockey Association Senior in 1953-54. After two seasons in the OHASr and one in the Quebec Hockey League with the Montreal Royals, Ingram turned pro and split his first pro season between the National Hockey League's Chicago Blackhawks and the American Hockey League's Cleveland Barons, to which he was traded by the Hawks for Ian Cushenan. He played 45 games with the Hawks', scoring once and adding 6 assists.
That would be it for Ingram's NHL experience for a while, as he spent the next six seasons with the Buffalo Bisons, before, on the last of those six seasons, he earned another call-up with the Blackhawks for two playoffs games. That would be his last time with the Blackhawks; Ingram was traded to the Detroit Red Wings in 1963 along with a young Roger Crozier for Howie Young. After 50 games in Detroit, he is dealt to the New York Rangers for Albert Langlois. The three games he played for the Rangers ended up being his last in the NHL. In 1965-66 he joined the Baltimore Clippers of the AHL for two seasons before returning to the Buffalo Bisons. In 1969-70, he played a last season, with the Seattle Totems of the Western Hockey League before retiring.
Ingram took on coaching duties in 1972-73 with the Syracuse Blazers. He enjoyed two excellent seasons with the Blazers, winning a whopping 63 games out of 76 in his first season and clinching the league championship in 1973-74. After a year off, Ingram came back in 1975-76, this time in the World Hockey Association, with the San Diego Mariners. Ingram led the Californian side to the playoffs both years, losing in the second round to the Houston Aeros in 1976 and in the first round to the Winnipeg Jets in 1977. With the Mariners folding following the 1977 WHA playoffs, Ingram joined the Indianapolis Racers in 1977-78. That ended up a bad season for his lackluster team, which finished dead last in the league and missed the playoffs. He went for a last coaching season in 1978-79, returning to San Diego to coach the upstart - and short-lived - San Diego Hawks of the Pacific Hockey League. Following that season, Ingram retired.