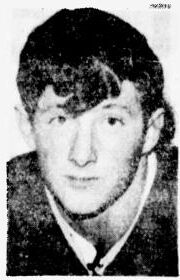 Ron Wayne Homenuke (born January 5, 1952 in Hazelton, British Columbia) is a former NHL player.
He played four seasons for the Calgary Centennials of the Western Hockey League.
He played in only one NHL game for the Vancouver Canucks, who had drafted him with the 51st pick in the 1972 Draft.
Homenuke played several seasons in the minors and then one season for the Nelson Maple Leafs of the Western International Hockey League. He retired in 1976.
External links
[
]