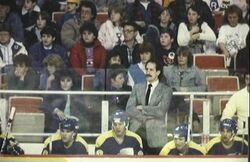 Ron Hansis (born November 12, 1952, in Brownsville, Texas) was an American ice hockey forward. He played 100 games in the World Hockey Association for the Houston Aeros in 1976-77 and 1977-78. He scored 17 goals and 12 assists.
Hansis had played college hockey at Concordia University in Montreal from 1973 to 1976. Undrafted, he turned pro in 1976-77 with the Aeros.
Starting in 1983, Hansis found a permanent home in Erie, Pennsylvania. He was the playing-coach of the Erie Golden Blades from 1984 until he retired in 1986. Hansis remained as coach until the team folded in 1987, and then became the coach of the new Erie Panthers until 1995.
He coached the Baton Rouge Kingfish for part of the 1997-98 season. Aside from that, Hansis has made his home in Erie.