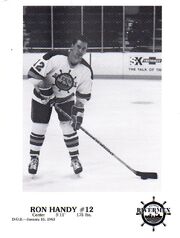 Ron Handy (born January 15, 1963 in Toronto, Ontario) was a professional ice hockey player who played 14 games in the National Hockey League. He played with the New York Islanders and St. Louis Blues.
He played junior with the Sault Ste. Marie Greyhounds and the Kingston Canadians. In his last year of junior (1982–83), Handy scored 52 goals and 96 assists for the Canadians. The New York Islanders picked him 57th overall in the 1981 NHL Entry Draft.
Handy spent most of his time in the minors, making the Central Hockey League second all-star team in 1983-84, That got him into 10 games with the Islanders in 1984-85, scoring two assists. A 135 point season (1986–87) with the Indianapolis Checkers of the International Hockey League (IHL) encouraged the St. Louis Blues to sign him as a free agent in 1987. Injuries got him into 4 games with the Blues in 1987-88, scoring 1 assist.
The balance of his career was spent in the minor pros. He earned playoff MVP honours in 1991-92 with the Kansas City Blades of the IHL and in 1993-94 and 1994-95 with the Central Hockey League's Wichita Thunder.
He retired in 2000.
Handy coached the Arkansas RiverBlades of the ECHL in 1999-00.
References