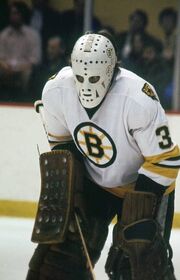 Ron Grahame (Born: June 7, 1950, Victoria, British Columbia) is a former professional goaltender in the National Hockey League and World Hockey Association.
After a collegiate career with the University of Denver during which he was named a First Team All-American, Grahame was signed by the Houston Aeros of the WHA. He played a season for the minor league Macon Whoopee in 1973 before coming up to the Aeros at the end of the season. In the 1974–75 season he made the Aeros for good, leading the WHA in wins, shutouts and goals against average and backstopping the club to the AVCO World Trophy, winning both the Ben Hatskin Trophy for best goaltender, First Team All-Star accolades and the WHA Playoff MVP. His following two seasons saw an equal degree of success, including a Second Team All-Star berth in 1976 and a second Hatskin award in 1977.
However, the Aeros folded after the 1977 season, and Grahame signed with the NHL's Boston Bruins for the 1977–78 NHL season. He continued his starring play, having a fine season as the Bruins' number one goaltender. After that season, however, he was traded to the Los Angeles Kings for a first round draft pick in the 1979 draft (which turned into Ray Bourque), and played poorly thereafter. He served with the Kings for three seasons before being sold to the Quebec Nordiques in December, 1980. He played eight games for the Nordiques before being sent down to the minors for the remainder of the season, after which he retired.
Ron, returned to the University of Denver where he worked with the hockey team prior to being named the school's athletic director in August of 2017.  He would also be named the second ever recipient of the National Collegiate Hockey Conference Distinguished Serivice Award in April of 2017  in honor of his work helping to get the conference off the ground and serving as the chair of the NCHC Athletic Council (Board of Directors).
Today
Currently, Ron Grahame is employed  Athletic Director at the University of Denver, where he works with the hockey team. He also continues to conduct goalie clinics for ice hockey and inline hockey goaltenders.
Gallery
External Links