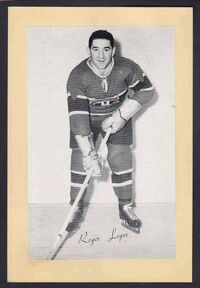 Roger Leger (March 26, 1919 – April 7 1965) was a professional ice hockey player who played 187 games in the National Hockey League. He was born in L'Annonciation, Quebec. He played with the Montreal Canadiens and New York Rangers.
He played senior hockey with the Joliette Cyclones and Ottawa Montagnards before getting into 7 games with the New York Rangers in 1943-44. Right after those games Leger was traded to the Montreal Canadiens.
Leger played for Montreal's farm team the Buffalo Bisons for several seasons until he was called up in 1946-47. He was a regular for the Canadiens through the 1949-50 season, playing in 183 games.
The Pacific Coast Hockey League's Victoria Cougars accquired him in 1950. Leger played two seasons there, winning the MVP title in 1950-51 and finishing on the first all-star team twice. He then returned back east to play four years in the Quebec Hockey League. Leger retired in 1956.
Awards
[
]
1950-51 George Leader Cup
References
[
]