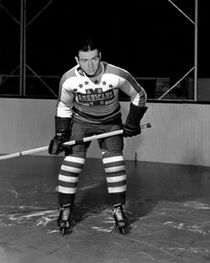 Roger Joseph Jenkins (November 18, 1911–March 4 1994) was a professional player who played 327 games in the National Hockey League. He was born in Appleton, Wisconsin. He played for the Toronto Maple Leafs, New York Americans, Montreal Canadiens, Montreal Maroons, Boston Bruins, and Chicago Black Hawks. Jenkins won the Stanley Cup in 1934 and 1938 with Chicago.
After a short career in the minor pros in the early 1930's, Jenkins was an NHL regular from 1932-39, albeit with six different teams. He scored 15 goals and 39 assists in 325 NHL games played.
After 1939 he played three seasons with the Hershey Bears of the American Hockey League and then five seasons in the Pacific Coast Hockey League. Jenkins retired in 1948.
Jenkins was the first NHL player to wear #88 doing so during the 1934–35 Montreal Canadiens season. Jenkins is seen in the video below wearing #88 during the brawl at the 1:50 mark.
Game 1 of the quarterfinals at Madison Square Garden on March 24, 1935, is remembered for its high level of physicality. In one sequence, an injured Earl Seibert of the New York Rangers is carried off the ice. Later, Nels Crutchfield of the Montreal Canadiens swings his stick into the head of Rangers captain Bill Cook. As a result, Cook collapses to the ice and a bench-clearing brawl ensues. Cook returns to the ice wearing a helmet and scores the game-winning goal in a 2-1 decision. Game 2 was tied 4-4 and the Rangers won the total goals series 6-5.
Community content is available under
CC-BY-SA
unless otherwise noted.