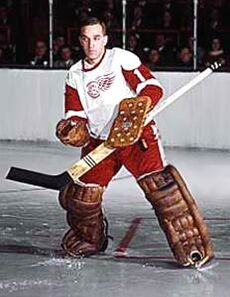 Roger Crozier (b. March 16 1942 in Bracebridge, Ontario, Canada) is a former professional goaltender who played in the National Hockey League for 15 seasons with the Detroit Red Wings, the Buffalo Sabres and the Washington Capitals.
After spending some time in the minor leagues, Crozier was recalled by the Wings in 1964 to replace an injured Terry Sawchuk. He did so well that he played the last 15 games of the season, and caused Sawchuk's departure to the Toronto Maple Leafs. Following his first full season, 1964-65, Crozier wins the Calder Memorial Trophy, awarded to the league's best rookie. The next season, he led his team to the Stanley Cup finals. The Montreal Canadiens won the Cup, but Crozier's play had been so amazing throughout the playoffs that he nevertheless has been awarded the Conn Smythe Trophy, becoming the first player of the league to have the honour of being given the Conn Smythe without winning the Stanley Cup.
After attaining such heights however, Crozier's career plummeted, mainly because of injuries and a disease to his pancreas that kept him away from play. In 1970, he is traded to the Buffalo Sabres for Tom Webster. There, he wasn't able to retrieve his star status, sharing duties in goals with Dave Dryden and later Gerry Desjardins. He still had an outstanding 17-2 record in in 1974-75, season where he and Desjardins led the 5 years old franchise to the Stanley Cup finals, where they fell to the Philadelphia Flyers four wins against two.
This proved to be Crozier's last stint of glory, as he only played in 11 games the following season and none the one after, until the Sabres traded his rights to the Washington Capitals for cash late in the season. He appeared in three games, winning one and losing none, before retiring at the end of the season. He briefly filled the role of Sabres' general manager and even more briefly as their head coach (one single game); in 1983, he became president of the MSBA Credit Card Company, a position he held until his death in 1996, caused by cancer. In 2000, the NHL introduced the Roger Crozier Award (formerly known as the Trico Award), annually given to the goaltender posting the best save percentage of the regular season.
Gallery
External Links