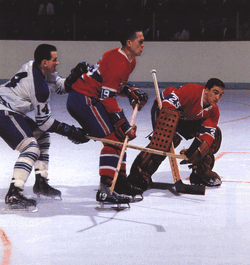 Rogatien Rosaire "Rogie" Vachon (b. September 8, 1945 in Palmarolle, Quebec) was a Canadian professional goaltender who played for the Montreal Canadiens, Los Angeles Kings, Detroit Red Wings, and Boston Bruins in the National Hockey League.
Vachon shared the 1968 Vezina Trophy with Gump Worsley while with the Canadiens, along with three Stanley Cups. He was runner up for the 1975 Vezina Trophy. Vachon was traded to the Kings in 1971, where he achieved his greatest individual success. He was named to the NHL's second all-star team in 1975 and 1977. His number 30 was the first number retired by the Kings in a ceremony on 2/14/1985. He ended his career with Boston in 1982.
He has since served in a variety of executive positions with the Los Angeles Kings.
Vachon was also the last active goalie that played during the Original Six era.
Vachon never allowed a peanlty shot goal, stopping every attempt in his career.
Known for his great reflexes and quick glove hand, Vachon was considered one of the premier one-on-one goaltenders of his era. Internationally, Vachon was the starting goaltender for Canada's 1976 Canada Cup team where he achieved a record of 6 wins and 1 loss, with 2 shutouts and a sparkling 1.39 goals-against average. Canada captured the championship with a two-game sweep of Czechoslovakia, and Vachon was named best goaltender of the tournament and Canadian MVP.
After retiring, he was General Manager of the Kings from 1984 to 1992. He also served as interim head coach of the Kings on three separate occasions.
Achievements
Edit
Stanley Cup Champion 1968, 1969, 1971 (with Montreal Canadiens)
Canada Cup Champion 1976
External Links
Edit
Community content is available under
CC-BY-SA
unless otherwise noted.