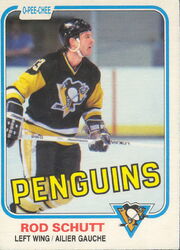 Rod Schutt (born October 13, 1956 in Bancroft, Ontario) is a retired professional player who played 286 games in the National Hockey League. He would play with the Toronto Maple Leafs, Montreal Canadiens, and Pittsburgh Penguins.
Schutt was a star with the junior Sudbury Wolves and a first round pick by the Montreal Canadiens in the 1976 NHL Amateur Draft. However, he would have little chance to make the Habs and was traded to the Pittsburgh Penguins in 1978.
After 3 full seasons with the Penguins, Schutt's back began to cause serious problems,. He began to split his time between the Penguins and the minors. Finally Schutt jumped to the Muskegon Mohawks of the International League in 1984 for one season and then became a free agent.
Schutt weighed offers from both the Edmonton Oilers and the Toronto Maple Leafs. Remembering his experience with the talent-laden Canadiens, Schutt signed with the weaker Leafs, hoping to get more ice time. However, the Leafs were in very bad shape and Schutt got very little ice time. He retired at the end of th 1985-86 season.
External links