Rochester Grizzlies

City:
Rochester, Minnesota
League:
MnJHL (1996-2015); North American 3 Hockey League (2015-Present)
Founded:
1995
Home Arena:
Rochester Recreation Center
Colors:
Black, Gold, Brown


              

Owner(s):
Michael Fatis
General Manager:
Michael Fatis
Head Coach:
Nick Fatis
Media:
The Rochester Post-Bulletin, KTTC
Franchise history
1995-2002:
Minnesota Ice Hawks
2002-2018:
Rochester Ice Hawks
2018-Present:
Rochester Grizzlies
The Rochester Ice Hawks are a Tier III Jr. A ice hockey playing in the Minnesota Junior Hockey League (MnJHL). The team plays their home games at the 2,600-seat Rochester Recreation Center, located in Rochester, Minnesota. The Ice Hawks play a 48 game regular season games, in addition to showcase and post season tournament games.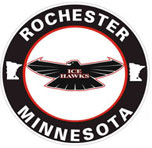 The Ice Hawks joined the MnJHL in 1995[1] and played in Le Sueur, Minnesota from then until 2002. The franchise moved to Rochester, Minnesota in 2002 after the Rochester Mustangs of the United States Hockey League ceased operations.[2]
Following the 2014-15 season, most of the active members of the Minnesota Junior Hockey League moved to the United States Premier Hockey League as part of a new Midwest Division. In May of 2015 the Ice Hawks were accepted as an expansion team into the NA3HL for the 2015-16 season.
On April 4, 2018 it was announced that the team had been sold to the ownership of the Austin Bruins of the North American Hockey League.  As part of the announcement of the sale the team was announced as being renamed the Rochester Grizzlies and would become the development team for the Bruins and the team would adopt the Bruins colors of brown, gold and black.
Season-by-season records
Season
GP
W
L
T
OL
Pts
GF
GA
Regular Season Finish
Playoffs
Minnesota Junior Hockey League
1999–00
36
14
21
0
1
29
146
226
5th, MnJHL
2000–01
36
12
24
—
0
24
130
229
5th, MnJHL
2001–02
42
11
26
—
5
27
122
216
7th, MnJHL
2002–03
42
15
23
—
4
34
163
195
5th, MnJHL
2003–04
40
27
10
3
0
57
205
130
2nd, MnJHL
Nationals semifinalist
2004–05
48
36
7
4
1
77
261
124
1st, MnJHL
Won Bush Cup
Nationals appearance
2005–06
48
40
7
1
0
81
251
124
1st, MnJHL
Won Bush Cup
Nationals semifinalist
2006–07
40
32
4
2
2
68
259
110
1st, MnJHL
Won Bush Cup
Nationals appearance
2007–08
48
43
5
0
0
86
300
125
1st, MnJHL
Won Bush Cup
Nationals appearance
2008–09
48
41
7
0
0
82
330
100
2nd, MnJHL
Won Bush Cup
Nationals appearance
2009–10
50
41
8
0
1
83
288
138
1st, MnJHL
Won Bush Cup
Nationals semifinalist
2010–11
45
34
9
—
2
70
216
116
2nd, MnJHL
Nationals appearance (host)
2011–12
48
35
11
—
2
72
295
145
2nd, MnJHL
Nationals semifinalist
2012–13
50
42
5
—
3
87
338
128
2nd, MnJHL
Lost Division Semifinal
2013–14
46
22
17
—
7
51
194
181
5th, MnJHL
Lost Division Semifinal
2014–15
42
35
6
—
1
71
272
89
2nd, MnJHL
Won Div. Quarterfinals, 2-0 vs. Minnesota Owls
Won Div. Semifinals, 2-0 vs. Hudson Crusaders
Won Crossover Semifinals, 2-0 vs. Illiana Blackbirds
Lost League Finals, 1-2 vs. Dells Ducks
North American 3 Hockey League
2015–16
47
10
36
—
1
21
123
272
4th of 5, Central
29th of 34, NA3HL
Lost Div. Semifinals, 0-2 vs. North Iowa Bulls
2016-17
47
10
36
-
1
21
101
250
4th of 5, Central
Lost Div. Semifinals, 0-2 vs. North Iowa Bulls
Season
GP
W
L
OL
SL
Pts
GF
GA
Regular Season Finish
Playoffs
2017-18
47
6
39
2
0
14
93
328
5th of 5, Central
Did not qualify
Rochester Grizzlies
2018-19
47
31
15
1
0
63
206
134
3rd of 7, West
Lost Div. Semifinals, 1-2 vs. North Iowa Bulls
2019-20
47
37
8
1
1
76
233
94
1st of 6, Central
Playoffs cancelled before team plays
2020-21
40
34
5
0
1
69
185
63
1st of 6, Central
Won Division, Lost Fraser Cup Final
References
External links