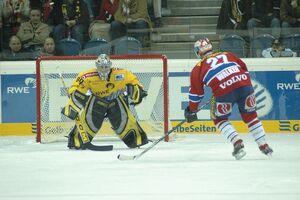 Robert Müller (June 25, 1980 – May 21, 2009) was a German professional ice hockey goaltender.
Draft
[
]
Müller was drafted by the Washington Capitals as their ninth-round pick in the 2001 NHL Entry Draft, 275th overall, but never played for the team.
Career
[
]
He won the German championship with the Krefeld Pinguine in 2002–03, repeating the feat with the Mannheim Eagles in 2006–07. It seemed to be impossible for him to play professional ice hockey any longer but Müller recovered and had his comeback on February 3, 2007, at the DEL All-Star Game.
Illness & Death
[
]
In November 2006, Müller was diagnosed with a malignant brain tumor, known as glioblastoma multiforme. Part of the tumor was surgically removed, followed by chemotherapy and radiation treatment later in the year.
In 2008, he was reappointed to the national team at the Skoda Cup in Switzerland.. In August of that same year, while playing for the Kölner Haie, the tumor continued to grow, requiring another operation. After that he released his physician, Wolfgang Wick, from patient/physician confidentiality. Wick told the media that Müller was terminally ill and already exceeded anticipated average life, as only 3% of the people having the same cancer live over five years.
On December 18, 2008, his doctor decided Müller was no longer cleared to play, as his condition grew worse.
He died of brain cancer on May 21, 2009; he is survived by his two children.
After his death it was announced that the Kölner Haie, Adler Mannheim and the EHC Klostersee will all retire his number 80. EHC München also retired his number 80, even though Robert had never played for München. The DEL also announced that starting with the season 2009/10 the number 80 would never be used in the league again.
Career statistics
[
]
 
 
Regular season
 
Playoffs
Season
Team
League
GP
W
L
T
MIN
GA
SO
GAA
SV%
GP
W
L
MIN
GA
SO
GAA
SV%
1998–99
Star Bulls Rosenheim
DEL
32
1
3.38
.880
--
--
--
--
--
--
--
--
1999–00
Star Bulls Rosenheim
DEL
50
1
3.50
.879
--
--
--
--
--
--
--
--
2000–01
Adler Mannheim
DEL
60
1
2.46
.912
12
1.16
.966
2001–02
Adler Mannheim
DEL
15
638
26
1
2.45
.887
12
2002–03
Krefeld Pinguine
DEL
50
2763
107
5
2.32
.912
14
1.99
.918
2003–04
Krefeld Pinguine
DEL
49
2892
131
6
2.72
.901
--
--
--
--
--
--
--
--
2004–05
Krefeld Pinguine
DEL
47
2769
136
1
2.95
.901
--
--
--
--
--
--
--
--
2005–06
Krefeld Pinguine
DEL
51
3003
154
1
3.08
.888
5
4.24
.864
2006–07
Adler Mannheim
DEL
23
2.61
.915
1
0
0
0
0
0.00
1.000
2007–08
Adler Mannheim
DEL
5
0
2
0
232
11
0
2.84
.917
--
--
--
--
--
--
--
--
2007–08
Füchse Duisburg
DEL
12
5
6
0
697
37
0
3.18
.902
--
--
--
--
--
--
--
--
2007–08
Kölner Haie
DEL
24
13
4
0
1461
65
1
2.67
.916
14
2008–09
Kölner Haie
DEL
2
0
0
0
12
0
0
0.00
1.000
--
--
--
--
--
--
--
--
External links
[
]

Wikimedia Commons has media related to: