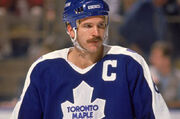 Robert "Rob" Ramage (b. January 11th 1959 in Byron, Ontario, Canada) was a professional defenseman who played in the World Hockey Association and the National Hockey League from 1979 to 1994.
Drafted from the London Knights by the Colorado Rockies first overall of the 1979 NHL Entry Draft, Ramage spent his first pro season (1978-79) in the WHA, playing for the Birmingham Bulls. He jumped to the NHL the following season, where he became part of the league's history following an embarrassing play against the New York Islanders. The Rockies' goaltender had left the ice for an extra skater after a delayed penalty was called on the Islanders. The puck had been shot on New York's goalie, Billy Smith, and bounced into the corner. Ramage picked it up and accidentally made a blind pass that none of his teammates could pick, which resulted in the puck crossing the whole rink to end in the empty Rockies' net. Billy Smith being the last Islanders player to have touched the puck, he was credited the goal; it was the first time ever a goalie was credited a goal in the NHL.
This mistake didn't prevent him from having a good career, having his name twice engraved on the Stanley Cup; once with the 1989 Calgary Flames, and again with the 1993 Montreal Canadiens.
On December 15th 2003, Ramage was driving drunk when his car swerved into the oncoming lane, getting into an accident that costed his passenger's, former Chicago Blackhawks captain Keith Magnuson, life.
External Links