Robert Bowlby Blake (born December 10, 1969) is a retired Canadian professional ice hockey player. He was originally drafted by the Los Angeles Kings in 1988, appearing in the 1993 Stanley Cup Finals, winning the James Norris Memorial Trophy and serving as team captain for five seasons in his initial 11 season-stint with the club. In 2001, Blake was traded to the Colorado Avalanche and won a Stanley Cup championship. After a two-season return to Los Angeles, Blake signed with the Sharks in 2008, retiring as its captain after the 2009-10 season.
Internationally, Blake has played for Team Canada in three consecutive Winter Olympics in 1998, 2002 and 2006, winning gold in 2002.
Playing career
Blake grew up playing minor hockey in his hometown of Simcoe, Ontario on some successful hockey clubs. From Novice to Bantam, Blake won two OMHA championships and was a teammate of future NHL goaltender, Dwayne Roloson.
Blake played for the Brantford Classics and Stratford Cullitons Jr.B. teams in the Midwestern Ontario Jr.B. league. After the 1985-86 season, Blake was selected in the 3rd round (31st overall) by the S.S. Marie Greyhounds in the 1986 OHL Priority Selection. Blake did not report to the Greyhounds, preferring to obtain an NCAA scholarship and then signed with the Stratford Cullitons for the 1986-87 season.
Blake accepted a scholarship to Bowling Green State University (CCHA) and played 3 seasons for the Falcons.
Los Angeles Kings (1990–2001)
Blake was selected 70th overall in the 1988 NHL Entry Draft by the Los Angeles Kings. He had completed his freshman year with Bowling Green University of the Central Collegiate Hockey Association (CCHA) when he was drafted and went on to play three years total in the college ranks, earning CCHA and NCAA West First All-Star Team honours in 1990. Foregoing his final season of college eligibility, Blake joined the Kings for the final four games of the 1989–90 season before tallying 46 points in his NHL rookie campaign in 1990–91 to be named to the NHL All-Rookie Team.
After a 59-point campaign in his third season, Blake helped lead the Kings to the 1993 Stanley Cup Finals, where they were defeated in five games by the Montreal Canadiens. The following season, in 1993–94, Blake improved to a career-high 48 assists and 68 points, but the Kings failed to qualify for the playoffs.
In a season where Blake was kept to just six games due to injury, the Kings traded captain Wayne Gretzky to the St. Louis Blues at the 1995–96 trade deadline, leaving the team's captaincy vacant. Blake was named the 11th captain in team history. He served as captain from 1996-2001. In 1997–98, Blake received the James Norris Trophy as the NHL's best defenceman after recording a career-high 23 goals to go with 50 points.
With Blake about to become an unrestricted free agent in the 2001 off-season, the Kings traded him, along with Steven Reinprecht, to the Colorado Avalanche for Adam Deadmarsh, Aaron Miller, Jared Aulin and a 1st round pick (David Steckel) on February 21, 2001.[1]
Colorado Avalanche (2001–06)
After 11 seasons in Los Angeles, Blake joined Colorado late in the 2000–01 season and made an immediate impact, tallying 10 points in the final 13 games of the regular season after being traded. He then won his first Stanley Cup with the Avalanche, adding 19 points in 23 post-season games. Blake re-signed with the Avalanche in the off-season and recorded 56 points in 2001–02, his highest total with the club.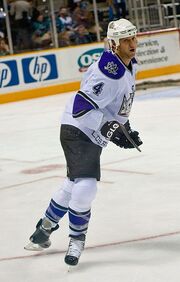 Return to Los Angeles (2006–08)
After four seasons with Colorado, the Avalanche chose not to pick up his contract option for the 2006–07 season, making him a free agent. He re-signed with his former team, the Kings, for two years at $6 million per year on July 1, 2006.[2]
Having come off a 51-point campaign with Colorado the previous year, Blake's production dipped upon his return to Los Angeles. He recorded 34 points in 2006–07 for his lowest total since 1996–97. Nevertheless, prior to the start of the 2007–08 season, Blake was re-named team captain on September 28, 2007, after previous captain Mattias Norström's departure to the Dallas Stars.[3]
San Jose Sharks (2008–2010)
Becoming an unrestricted free agent once more in the 2008 off-season, Blake signed a one-year, US$5 million contract with the Kings' Pacific Division rival San Jose Sharks on July 3, 2008.[4] Blake reached the 40-point plateau once more with the Sharks, tallying 10 goals and 35 assists in his first season in San Jose.
Blake extended his contract with the Sharks, re-signing for another year at $3.5 million to avoid free agency. Blake would be named captain of the Sharks approximately six weeks after previous captain Patrick Marleau was stripped of the role by Sharks management.
Retirement
On June 18, 2010, Blake announced his final retirement from professional hockey.[5]
International play
Played for Canada in:
Personal life
Blake and his wife Brandy have two children. His best friend in the NHL is New York Islanders goaltender Dwayne Roloson, with whom he grew up playing hockey in Simcoe, Ontario. He is also closely related to Hall of Famer Red Kelly. In 2008, Blake appeared in the Mike Myers film The Love Guru as himself.[6]
Career statistics
Regular season and playoffs
 
 
Regular season
 
Playoffs
Season
Team
League
GP
G
A
Pts
PIM
GP
G
A
Pts
PIM
1985–86
Brantford Classics
OJHL-B
39
3
13
16
43
—
—
—
—
—
1986–87
Stratford Cullitons
OJHL-B
31
11
20
31
115
—
—
—
—
—
1987–88
Bowling Green Falcons
CCHA
43
5
8
13
88
—
—
—
—
—
1988–89
Bowling Green Falcons
CCHA
46
11
21
32
140
—
—
—
—
—
1989–90
Bowling Green Falcons
CCHA
42
23
36
59
140
—
—
—
—
—
1989–90
Los Angeles Kings
NHL
4
0
0
0
4
8
1
3
4
4
1990–91
Los Angeles Kings
NHL
75
12
34
46
125
12
1
4
5
26
1991–92
Los Angeles Kings
NHL
57
7
13
20
102
6
2
1
3
12
1992–93
Los Angeles Kings
NHL
76
16
43
59
152
23
4
6
10
46
1993–94
Los Angeles Kings
NHL
84
20
48
68
137
—
—
—
—
—
1994–95
Los Angeles Kings
NHL
24
4
7
11
38
—
—
—
—
—
1995–96
Los Angeles Kings
NHL
6
1
2
3
8
—
—
—
—
—
1996–97
Los Angeles Kings
NHL
62
8
23
31
82
—
—
—
—
—
1997–98
Los Angeles Kings
NHL
81
23
27
50
94
4
0
0
0
6
1998–99
Los Angeles Kings
NHL
62
12
23
35
128
—
—
—
—
—
1999–00
Los Angeles Kings
NHL
77
18
39
57
112
4
0
2
2
4
2000–01
Los Angeles Kings
NHL
54
17
32
49
69
—
—
—
—
—
2000–01
Colorado Avalanche
NHL
13
2
8
10
8
23
6
13
19
16
2001–02
Colorado Avalanche
NHL
75
16
40
56
58
20
6
6
12
16
2002–03
Colorado Avalanche
NHL
79
17
28
45
57
7
1
2
3
8
2003–04
Colorado Avalanche
NHL
74
13
33
46
61
9
0
5
5
6
2005–06
Colorado Avalanche
NHL
81
14
37
51
94
9
3
1
4
8
2006–07
Los Angeles Kings
NHL
72
14
20
34
82
—
—
—
—
—
2007–08
Los Angeles Kings
NHL
71
9
22
31
98
—
—
—
—
—
2008–09
San Jose Sharks
NHL
73
10
35
45
110
6
1
3
4
4
2009–10
San Jose Sharks
NHL
70
7
23
30
60
15
1
1
2
10
NHL totals
1270
240
537
777
1679
146
26
47
73
166
International
Year
Team
Event
GP
G
A
Pts
PIM
1991
Canada
WC
2
0
2
2
0
1994
Canada
WC
8
0
2
2
6
1996
Canada
WC
4
0
1
1
0
1997
Canada
WC
11
2
2
4
22
1998
Canada
OG
6
1
1
2
2
1998
Canada
WC
5
1
0
1
6
1999
Canada
WC
10
2
5
7
12
2002
Canada
OG
6
1
2
3
2
2006
Canada
OG
6
0
1
1
2
Senior Int'l Totals
58
7
16
23
52
Awards
References
External links