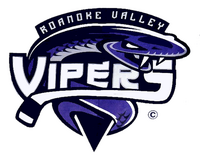 The Roanoke Valley Vipers were a professional ice hockey team located in Roanoke, Virginia. They were formed for the 2005-06 season, mainly to fill the gap after the ECHL's Roanoke Express disbanded and to provide a travel partner near the Richmond RiverDogs. They were a member of the United Hockey League and played in the Roanoke Civic Center. They were formed in 2002 as the Port Huron Beacons and played there in McMorran Arena in Port Huron, Michigan through the end of the 2004-05 season. They were unsuccessful on and off the ice, with a losing record in their lone season in Virginia and an average attendance of about 1,000 fans in an arena with a capacity of over 9,000. Local fans complained about high ticket prices and a lower level of play than the ECHL. The midwestern focus of the UHL also made rivalries less intense than they had been with the southeastern and mid-atlantic teams of the ECHL. The owners and their marketing plans were frequently criticized by local media. Local interest in hockey had also failed to recover after the demise of the Express. The Vipers folded on May 15, 2006, shortly after the RiverDogs departed Richmond and became the Chicago Hounds.
Community content is available under
CC-BY-SA
unless otherwise noted.