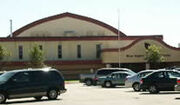 The River Heights Community Centre is an indoor arena located in the River Heights section of Winnipeg, Manitoba.
The arena was built in 1964 with natural ice and the ice plant was installed in 1965 and updated in 1967. The arena was further expanded in 1978 and renovated in 1980.
The arena was home to the River Heights Cardinals of the Manitoba Major Junior Hockey League from 1970 to 1978. It is still home of the River Heights Cardinals youth hockey organization.