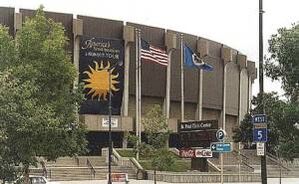 The RiverCentre was a large convention center located in St. Paul, Minnesota, USA.
Saint Paul Civic Center Arena
The Saint Paul Civic Center was an indoor arena that was part of the RiverCentre. The arena opened on January 1, 1973, and had seating capacity of approximately 16,000 for hockey. The Civic Center was the home of both incarnations of the Minnesota Fighting Saints of the WHA - the first from 1973-1976 and the second from 1976-1977. The arena was renamed the RiverCentre in the mid 1990s. The arena was torn down in 1998 to make way for the Xcel Energy Center which opened in 2000. The Minnesota high school boys hockey and basketball tournaments were also held at the Civic Center as well as three NCAA Frozen Four national ice hockey championships.
The Civic Center was unique in North America in that the hockey dasher boards were made of clear acrylic glass from the shelf all the way down to the ice. This was because the arena's seating configuration was round, and the closest seats between the blue lines were not flush against the boards. The clear boards made for better sightlines for most spectators seated between the blue lines, since the seating angles in the Civic Center were shallow.
The clear boards were replaced with standard white dashers boards when the Minnesota Moose of the International Hockey League played there, as the team needed to be able to sell advertising on the boards. This wrecked the sightlines for what should have been the best seats, and this illustrated that Saint Paul needed a new arena with appropriately-designed seating.
External links