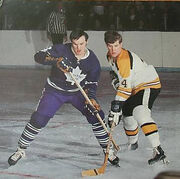 Rick Ley (b. November 2 1948 in Orillia, Ontario, Canada) is a former professional defenceman of the National Hockey League and World Hockey Association.
Ley was a 3rd round Toronto Maple Leafs draft pick in the 1966 NHL Entry Draft. He would play 4 seasons with the Leafs before joining the WHA's New England Whalers in 1972. He stayed with New England until the end of the WHA, in 1979; he followed the Whalers into the NHL and retired in 1981 after six years of captaincy of the team. Along with Gordie Howe and John McKenzie, he is one of the only three Whalers players to have had his number retired.
He spent two seasons as the Vancouver Canucks head coach, then seven in the organization as coach and scout before being named assistant-coach of the Maple Leafs on August 4 1998. He, along with Pat Quinn, was fired following the 2005-06 NHL season.
External Links