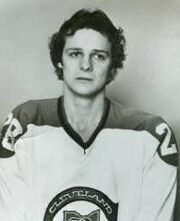 Rick Jodzio (born June 3, 1954, in Edmonton, Alberta) is a former professional ice hockey left winger. He played in the National Hockey League with the Colorado Rockies and the Cleveland Barons; additionally, he played in the World Hockey Association with the Vancouver Blazers and the Calgary Cowboys.
In his NHL career, Jodzio appeared in 70 games. He scored 2 goals and added 8 assists. He also collected 71 minutes in penalties. He played in 137 WHA games, scoring 15 goals and adding 16 assists. He also had 357 minutes in penalties.
In on of the most infamous moments of organized hockey, on 11 April 1976 Jodzio, while playing for the Calgary Cowboys of the WHA, attacked Quebec Nordiques star Marc Tardif with a vicious high-stick during a hockey game in Quebec City. Jodzio's hit caused Tardif permanent brain damage. According to several witnesses, Jodzio hit Tardif repeatedly as Tardif lay helplessly on the ice.
It is disputed still exactly how the fight occurred, video of the aftermath of the event is available on youtube.com. Jodzio was also a trained boxer. Since then Jodzio and Tardif have met for press interviews.
External links
[
]
1-Allo Police page 6, 4 July 1976.