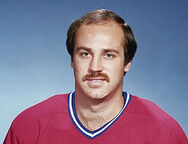 Richard Douglas Green (Born: February 20, 1956 in Belleville, Ontario, Canada) was a former assistant coach with the Montreal Canadiens and a former defenceman.
Green was drafted by the Washington Capitals in the 1976 NHL Amateur Draft, First Overall. He was also drafted by the Quebec Nordiques in the 1976 WHA Amateur Draft, First Round, Tenth Overall. He won the OHA 1976 Max Kaminsky Trophy for Most Outstanding Defenceman as selected by league general managers. He has played for the OHA London Knights, the NHL Washington Capitals, Montreal Canadiens, Detroit Red Wings and New York Islanders. He has also been an assistant coach for the New York Islanders, Los Angeles Kings and Montreal Canadiens. He won the Stanley Cup with Montreal in 1986.
In his NHL career, Green scored 43 goals and 220 assists in 845 regular-season games.
External links