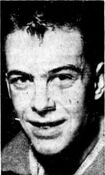 While at Michigan Tech shaved the goaltending with future Hockey Hall of Famer Tony Esposito. In the three years, Best played 39 games, Mr. Zero 51. On March 19, 1965,
Best recorded the first shutout in NCAA tournament play against Brown.
Career Statistics
Regular Season
Note: Freshmen were not allowed to play on the varsity team.
Playoffs
Awards & Achievements
Played in MJHL / SJHL All-Star Game (1962 & 1963)
MJHL Second All-Star Team (1962 & 1963)
Western Collegiate Hockey Association Championship (1965)
National Collegiate Athletic Association Championship (1965)
WCHA Second All-Star Team (1967)
NCAA All-American (1967)
External links