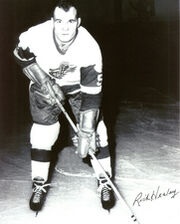 Richard Thomas Healey (born March 12, 1938 in Vancouver, British Columbia) is a former professional ice hockey defenceman who played one game in the National Hockey League with the Detroit Red Wings.
He played junior hockey for the Edmonton Oil Kings from 1955 to 1958. In 1958-59 he played for the intermediate Red Deer Rustlers.
The next season Healey turned pro with the Sudbury Wolves of the Eastern Professional Hockey League. He earned a one-game callup to the Detroit Red Wings in 1960-61 while he continued with the Wolves. The next season he played with the Sault Ste. Marie Thunderbirds.
After 1962 he played mostly senior hockey in Alberta with the Lacombe Rockets, Edmonton Monarchs, and Edmonton Nuggets. He retired in 1969.
External links