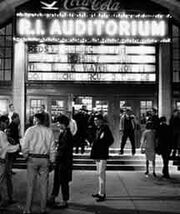 Rhode Island Auditorium
The Arena, The Main Event
Location
1111 North Main Street, Providence, Rhode Island 02906
Opened
February 18, 1926
Demolished
1989
Owner
Hubert Milot, Louis A. R. Pieri(1938-)
Operator
Louis A. R. Pieri (Manager, 1929)
Tenants
Providence Reds (AHL) (1926-1972)
Providence Steamrollers (National Basketball Association) (1946-1949)
Capacity

Rhode Island Auditorium was an indoor arena in Providence, Rhode Island, at 1111 North Main Street. It hosted the National Basketball Association's Providence Steamrollers from 1946 until 1949, and the Providence Reds ice hockey team until the Providence Civic Center (now the Dunkin' Donuts Center) was opened in 1972. The arena held 5,300 people and opened in 1926.
The arena also served as the home of the Providence Friars men's ice hockey team from 1952 to 1973 when they moved to Schneider Arena.
It was torn down in 1989 and is now a parking lot.
External links