Rexall Place is an indoor arena in Edmonton, Alberta, Canada situated on the north side of Northlands Park. It is home to the Edmonton Oilers of the NHL, the Edmonton Rush of the National Lacrosse League and the Edmonton Oil Kings of the WHL.
History
When the arena opened on November 10, 1974, it was known as Northlands Coliseum to house the World Hockey Association Oilers. Then it became the Edmonton Coliseum in 1994, and Skyreach Centre in 1998, before it changed to its current name during the middle of the 2003–04 NHL season when its naming rights were purchased by the Rexall medicine company, a subsidiary of the Katz Group of Companies.
The arena was used to host games in the 1981 and 1984 Canada Cup hockey tournaments, including Game 2 of the 1984 finals between Canada and Sweden. In the 1995 World Junior Championships, which where held in various cities and towns throughout Alberta, Edmonton Coliseum was the site of several games, including Canada's 6–3 victory over Finland on New Year's Day.
The venue was the site of several Commonwealth Games sports in 1978, and part of the World University Games in 1983.
Before the 2007/08 season started, the Oilers dressing room was renovated for $4 million. The state-of-art room is now wider with a new medical room, lounge, bar, video room, weight room as well as other new facilities. Just after the entrance to the dressing room is a cubicle with 5 replica Stanley Cups in it that has all the names of the past Oilers who won cups with the team. Next to the 5 replicas is an empty space symbolizing that there is always room for another.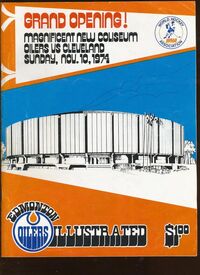 Seating capacity
The official capacity for hockey is currently 16,839, which is slightly less than the 17,100 the arena held before the 2001–02 NHL season. Some media sources still quote the old capacity even though the Oilers have never announced an attendance above 16,839 since the most recent changes. When it opened, the capacity was slightly more than 15,200, but it was increased to 17,353 after the Oilers joined the NHL by adding an extra tier of seating on the side opposite the pressbox. This was increased to 17,503 in 1984. The arena underwent an extensive renovation in 1994 and has 67 luxury suites.
External links