Resch Center

Location
Ashwaubenon, Wisconsin, U.S.
Opened
September 2002
Owner
Tenants
UW–Green Bay Phoenix Men's Basketball (2002-present)
Green Bay Gamblers (USHL) (2002-present)
Green Bay Blizzard (Indoor Football League) (2003-present)
Capacity
10,200
The Resch Center is a 10,200 seat multi-purpose arena in Ashwaubenon, Wisconsin. Built in 2002, it is the home of the University of Wisconsin–Green Bay Phoenix men's basketball team, the Green Bay Gamblers ice hockey team, and the Green Bay Blizzard arena football team. The arena was built next to the existing Brown County Veterans Memorial Arena and across the street from Lambeau Field. It was named for KI executive Dick Resch.
The Resch Center was the site of the 2006 NCAA men's hockey tournament's midwest regional, held on March 25, and 26. The Wisconsin Badgers of the Western Collegiate Hockey Association (WCHA), the Cornell Big Red of the Eastern College Athletic Conference (ECAC), Colorado College, also of the WCHA, and Bemidji State University of College Hockey America (CHA), all participated in the Midwest Regional. The regional final had Wisconsin defeating Cornell 1-0 in three overtimes.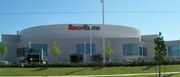 This game was the longest 1-0 game in NCAA Tournament history, the second longest game in tournament history, and the sixth-longest game in NCAA Division I history. The victory earned the Badgers their first trip to the Frozen Four since 1992.