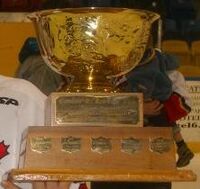 The Gordon Renwick Cup is the Senior "AAA" Central Canada ice hockey championship. The winning of this trophy earns the champion the right to compete in the Allan Cup, the National Senior Championship. The winner of Ontario would play the winner of Quebec for this trophy. Now it is mainly played for as an interbranch championship in Ontario.
The Renwick Cup dates back to at least 1990. Originally, the Renwick Cup championship was followed by an Eastern Canada Championship known as the Bolton Cup, but in recent years that championship has been dropped to expand the size of the Round Robin at the Allan Cup.
The Championship is played for between the Ontario Hockey Federation champion and the champion of Hockey Northwestern Ontario. HNO had now grown to three AAA teams in 2010, The Thunder Bay Twins, Fort Frances Thunderhawks  and the Kenora Thistles, however; Thunder Bay (after 2009-10 season) and Fort Frances (ceasing operations in March 2012) have stopped playing at the AAA level. The OHF champion is determined by the winner of Allan Cup Hockey in Southern Ontario The Northern Ontario Hockey Association has not submitted a champion in recent years.
The Renwick Cup has not played  in recent years when a team from Ontario hosts the Allan Cup as the host team qualifies and  the branch champion qualifies (the Renwick Cup winner)  and since a team from Quebec has not represented the province at the Allan Cup since the Quebec Senior Major Hockey League became professional and renamed itself the Ligue Nord-Américaine de Hockey in 2004, and this berth traditionally goes to a team from the host branch and eliminating the need for the Cup as both the ACH champion and the HNO champion would both qualify.
Over the past several seasons the Renwick Cup has been held between the Kenora Thistles and the champion of Allan Cup Hockey.  However, the Thistles folded during the 2015-16 hockey season after they were originally awarded the right to host the 2017 Allan Cup.  The tournament was then re-awared to Bouctouche, New Brunswick.
The tournament was expected to return for 2018 as the Thistles have announced a return to Senior AAA hockey for the 2017-18 playing season.  However, the Thistles folded prior to playing for the season.
Champions
Edit
Standings
Edit
Note: 2003 was last year Ontario teams were eligible for the Bolton Cup as the format for the Allan Cup was changed and Ontario was given its own spot in the tournament as the Central Region.
Community content is available under
CC-BY-SA
unless otherwise noted.