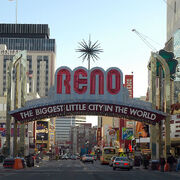 Reno is a city of about 200,000 people in northwestern Nevada, United States.
In December of 2016 an agreement was reached with the city to work on negotiating with a group that could put a team in Reno as early as the 2018-19 season in the ECHL and would be an affiliate of the Vegas Golden Knights who joined the National Hockey League for the 2017-18 season. Apparently the efforts have stalled. A proposed $5.7 million renovation to the Reno Events Center would be part of a new team coming to town and funding efforts have stalled. A naming rights deal would most likely be needed for the renovations to take place. The arena would require the installation of an ice rink (plus ice making equipment) and locker rooms. Other renovations included a new elevator and other repairs to the seating area.[1]
(Pacific Southwest Hockey League, ????-????)
(West Coast Hockey League, 1995-1997) renamed Rage
The city or Reno has been listed on the ECHL website as a future market.
Reno Events Center (1965-Present) formerly known as Centennial Coliseum
Reno Rink on the River
Community content is available under
CC-BY-SA
unless otherwise noted.