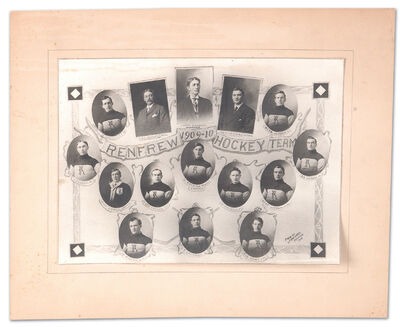 The Renfrew Hockey Club, also known as the Creamery Kings and the "Renfrew Millionaires" was a founding franchise in 1909 of the National Hockey Association, the precursor to the National Hockey League. The team was based in Renfrew, Ontario.
History
[
]
Its founder, Ambrose O'Brien, a millionaire from the then-current silver and mining boom in the Cobalt area of Ontario, sought to join the new Canadian Hockey Association with his existing Renfrew team in the semi-pro Federal Hockey League, and was rejected. With fellow rejectee Montreal Wanderers, O'Brien founded the NHA, along with franchises in Cobalt, Haileybury and Montreal.
With O'Brien's money backing the Creamery Kings, Renfrew iced a powerful team its first season, with Frank Patrick and Lester Patrick commanding salaries of $3,000 each, and Cyclone Taylor receiving a record-setting $5,250 for a two-month season. In consequence the team became widely nicknamed the "millionaires." In addition, O'Brien secured the services of Newsy Lalonde midseason from the Canadiens franchise, and Lalonde would wind up the season the NHA's first scoring champion. Coached by Ottawa Senators legend and future Hall of Famer Alf Smith, Renfrew finished in third place in the 1910 season with an 8-3-1 record.
Its second and final season, Renfrew lost Lalonde to the new Montreal Canadiens team, and finished 8-8, with Don Smith and Odie Cleghorn being the leading scorers. Renfrew's final major professional game was a 7-6 victory on March 7, 1911, against the Wanderers.
Thereafter, with it being apparent that the small northern Ontario mining towns such as Renfrew, Cobalt and Haileybury could not support major senior hockey, O'Brien folded the franchise for good.
Hall of Famers
[
]
See also
[
]
References
[
]
Charles Coleman, Trail of the Stanley Cup, Vol I., NHL, 1966.