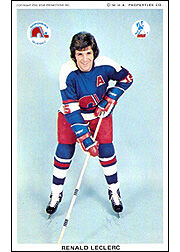 Reynald LeClerc (born November 12, 1947 in Vanier, Quebec) is a retired professional ice hockey player who played 87 games in the National Hockey League and 452 games in the World Hockey Association. He played for the Detroit Red Wings, Quebec Nordiques, and Indianapolis Racers.
He played junior hockey for the Hamilton Red Wings from 1963 to 1968 and was chosen 19th overall by the Detroit Red Wings in the 1964 NHL Amateur Draft. He turned pro in 1968-69 with Detroit.
He spent 1969-70 in the minors and then played 44 games with Detroit in 1970-71. However he was again relegated to the minors in 1971-72.
In 1972 LeClerc jumped to the Quebec Nordiques of the World Hockey Association (WHA). He was a regular with the Nordiques until midway in the 1975-76 season when he was traded to the Indianapolis Racers. LeClerc played with the Racers until they folded partway through the 1978-79 season. He then rejoined the Nordiques and retired at the end of the season.
In the NHL LeClerc played in 87 games and scored 10 goals and 11 assists. He scored 134 goals and 177 assists in 452 WHA games.
External Links
[
]