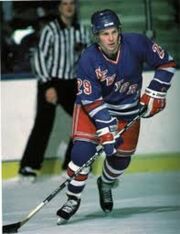 Reijo "Rexi" Ruotsalainen (b. April 1, 1960 in Oulu, Finland) was a professional defenseman who played in the SM-Liiga, the Nationalliga A and the National Hockey League with the New York Rangers, the Edmonton Oilers and the New Jersey Devils.
Graduated from and long-time star of Kärpät Oulu of the SM-Liiga, Ruotsalainen was a small player, primarily known for his exceptional speed, which often made former New York Rangers coach Herb Brooks claim without hesitation that he was the best NHL skater of his time. The Finn was the Rangers' 6th round pick (119th overall) of the 1980 NHL Entry Draft. He took his chance and signed with the Rangers, making his NHL debuts in 1981. He was a Ranger until 1986; he split the 1986-87 season between Nationalliga A's SC Bern and NHL's Edmonton Oilers. After spending the next two seasons respectively with the Elitserien's HV 71 and SC Bern, Ruotsalainen came back to North America for one last NHL season, 1989-90 NHL season, playing for the Oilers and Devils, before leaving for good to Europe - he was three times Swiss Champion with Bern, in 1989, 1991 and 1992.
Reijo Ruotsalainen was a reliable element of the Finnish National Team for a decade, suiting up 122 times for the team and winning the silver medal at the 1988 Olympics.
Ruotsalainen is now assistant coach of EC Red Bull Salzburg of the Erste Bank Eishockey Liga.
His son Antti, who also holds a Swiss passport, plays in the Nationalliga B for HC Sierre.
Awards and honours
Through his career, Ruotsalainen won various awards and distinctions:
Lynces Academici Defenceman Award

(SM-liiga 79-80)
Best Defenceman (WJC 80; SM-liiga 79-80, 80-81)
All-Star Team (SM-liiga 79-80, 80-81; WJC 80;

Izvestiya

80; NLA 92-93)
NHL All Star Game (85-86)
Foreign-player All star team 1991-92
(Best +/- (I divisioona 97-98)
Stanley Cup Champion ('87, '90)
Number (#10) retired by Kärpät
Jääkiekkoleijona #122