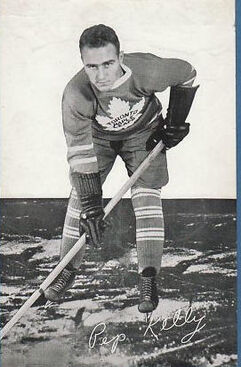 Regis "Pep" Kelly (born January 17, 1914 in North Bay, Ontario – September 1990) was a professional ice hockey player who played 288 games in the National Hockey League with the Toronto Maple Leafs, Chicago Black Hawks, and Brooklyn Americans.
Kelly played junior hockey with the North Bay Trappers from 1930 to 1932. Then he did something very rare in hockey. In 1932-33 he played for the Newmarket Redmen as they won the Memorial Cup, The next year he switched to the St, Michaels College Majors and they, too, won the Memorial Cup in 1934.
He turned pro with the Toronto Maple Leafs in 1934-35, scoring 11 goals and 8 assists in his rookie season. Kelly exactly matched that total in 1935-36, but struggled in 1936-37 and was loaned to the Chicago Black Hawks in mid-season. He scored 13 goals in only 29 games with the Hawks. He returned to the Leafs in 1937 and played three more solid seasons for the team.
In 1940 he was traded to the Hawks but his career was on the downswing. He only got into 21 games in 1940-41 and then played 8 games for the Brooklyn Americans in 1941-42, playing the rest of his time in the minors.
In 1942-43 Kelly suited up for the Pittsburgh Hornets in his last season of pro hockey. From 1943 to 1949 Kelly played senior hockey in Northern Ontario, notably for the North Bay Black Hawks.
In the NHL, Kelly played in 288 games and scored 74 goals and 53 assists. In 38 playoff games he scored 7 goals and 6 assists.
External Links