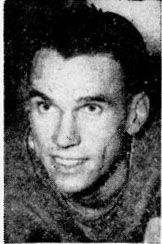 Reginald Sinclair (born March 6, 1925 in Lachine, Quebec, Canada - died November 24, 2013) is a retired Canadian ice hockey forward.
Sinclair started his National Hockey League career with the New York Rangers. He would also play with the Detroit Red Wings. His career would last from 1950 to 1953. He played in the 1951 NHL All-Star Game and the 1952 NHL All-Star Game.
He played five years with McGill University from 1944 to 1949. He then joined the Sherbrooke Saints of the Quebec Senior Hockey League for the 1949-50 season. In 22 playoff games he scored 15 goals and 15 assists as the Saints lost the 1949-50 Eastern Canada Allan Cup Playoffs final.
The New York Rangers signed him as a free agent in 1950. He was an immediate hit, scoring 18 goals in 1950-51 and 21 in 1951-52. He played in the 1951 and 1952 NHL All Star Games.
In 1952 he was traded to the Detroit Red Wings. Sinclair scored a still-repsectable 11 goals and 12 assists in 1952-53 and retired.
He played in 208 games and scored 49 goals and 43 assists.
External links
[
]