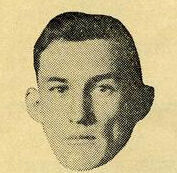 Reginald William Mackey (born May 7, 1900 in Ottawa, Ontario - date of death unknown) was a Canadian professional ice hockey defenceman who played one season in the National Hockey League for the New York Rangers. He played 34 games with no points and 16 penalty minutes in 1926-27.
He played for the Calgary Wanderers in the Alberta Big Four League in 1919-20. After that league folded, Mackey spent the next three seasons playing senior hockey in Calgary. In 1923-24 he played for the senior Bellevue Bulldogs.
The pro Calgary Tigers brought him up for the 1924-25 season. In 1925-26 he played with the Vancouver Maroons. After that team folded Mackey joined the newly-formed Rangers.
Simpson was with the minor pro Boston Tigers from 1927 to 1931. In 1932 he returned to Calgary to play for the minor pro Calgary Tigers until 1934.
External links
[
]