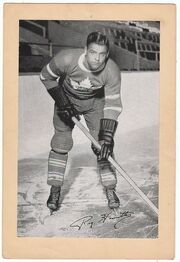 Reginald James "Reg" Hamilton (April 20, 1914 in Toronto, Ontario – June 12 1991) was a Canadian ice hockey defenceman.
He played junior hockey with the Toronto Marlboros from 1930 to 1933. In 1933-34 he played for the St Michaels College Majors when they won the Memorial Cup.
Hamilton started his National Hockey League career with the Toronto Maple Leafs in 1935. He won the Stanley Cup twice in 1941–42, and 1944–45 NHL seasons with the Leafs.
He would also play with the Chicago Black Hawks for two seasons, 1945–1947.
Hamilton was a player and head coach of the Kansas City Pla-Mors 1947–48 of the USHL and was the head coach for the Pla-Mors 1948–49 and retired from hockey for a few years before returning to Toronto to take over as the head coach of the Toronto Marlboros in the 1953–54 season.
He played in 424 NHL games, scoring 21 goals and 87 assists.
Hamilton retired in 1948.
External links