The Red Lake Miners are a Canadian Junior ice hockey team based in Ear Falls, Ontario. The Miners play in Hockey Canada's Superior International Junior Hockey League.
History
In May 2013, the SIJHL announced that the Ear Falls Eagles would be joining the league for the 2013-14 season.[1][2][3] Weeks later, it was announced that the team would instead be called the English River Miners to better serve the entire community.[4]  The team would be based out of the Ear Falls Arena.
On September 20, 2013, the Miners played the first game in their franchise's history. Played in Dryden, Ontario against the Dryden Ice Dogs, the Miners would fall 4-2 after giving up two last minute tallies, one of which was on an empty net. Nathan Johnson scored the first goal in team history 6:06 into the first period. Greg Harney played the first ever game in net, making 32 saves in the effort.[5]
On October 10, 2013, the Miners picked up their first ever franchise victory, on home ice, defeating the Wisconsin Wilderness by a score of 3-1. Devan Vander Wyk scored the eventual game-winning goal 3:47 into the third period, while Holden Melgoza made 29 saves for the victory.[6]
Prior to the 2016-17 season, the team would move its home games from the Ear Falls Recreation Centre Arena in Ear Falls to the Cochenour Arena in Red Lake, Ontario.
The team announced after the club's annual general meeting on August 7, 2018 that the team would be getting renamed the Red Lake Miners.
Season-by-Season Results
Season
GP
W
L
T
OL
SL
GF
GA
P
Results
Playoffs
2013-14
56
21
30
-
5
-
185
228
47
4th SIJHL
Won Quarter-final, 2-4 (Ice Dogs)
Lost Semi-final, 0-4 (Lakers)
2014-15
56
10
41
-
5
-
159
295
25
5th SIJHL
Lost Quarter-final, 0-3 (North Stars)
2015-16
56
12
37
3
4
-
144
239
31
5th SIJHL
Won Quarter-final, 3-2 (Iron Rangers)
Lost Semi-finals 0-4 (Lakers)
2016-17
56
31
21
-
1
3
220
197
66
3rd SIJHL
Won Semifinals, 4-1 (Thunder Bay North Stars)
Lost Final, 0-4 (Dryden Ice Dogs)
2017-18
56
28
23
-
1
4
188
209
61
4th SIJHL
Lost First Round 1-3 (Lakers)
2018-19
56
38
15
-
3
0
278
193
79
2nd SIJHL
Won Semifinal 4-2 (Norskies)
Lost Final 1-4 (Thunder Bay North Stars)
2019-20
55
32
18
-
3
2
196
176
69
2nd SIJHL
Season cancelled prior to end of regular season
2020-21
4
1
2
-
1
0
13
16
3
N/A
Season cancelled
2021-22
37
28
6
-
2
1
210
112
59
2nd
Won Championship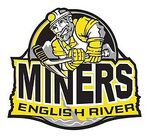 References
External links