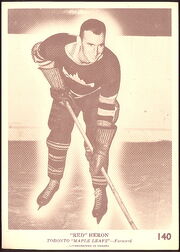 Robert Greatrex "Red" Heron (December 31, 1917 – December 14, 1990) was a Canadian professional ice hockey player who played 106 games in the National Hockey League. Born in Toronto, Ontario, he played with the Brooklyn Americans, Toronto Maple Leafs, and Montreal Canadiens, scoring 21 goals and 19 assists.
He played junior hockey for the Toronto Marlboros, Toronto Native Sons, and the West Toronto Nationals. Heron won the Memorial Cup in 1936 with West Toronto.
Heron played for the senior Toronto Goodyears in 1936-37 and 1937-38, leading the Ontario Hockey Association Senior League in scoring in 1937-38. He turned pro in 1938-39 with the Syracuse Stars.
He was a regular for the Toronto Maple Leafs in 1939-40 and 1940-41, and then was loaned to the Brooklyn Americans in 1941-42. The Americans then loaned him to the Montreal Canadiens in mid-season.
After that season, Heron played senior hockey in the Toronto area until he retired in 1949.
External links
References