Red Berenson Rink at Yost Ice Arena (formerly the Yost Ice Arena and prior to that the Fielding H. Yost Fieldhouse) in Ann Arbor, Michigan is an indoor arena located in Ann Arbor, Michigan. It is the home of the University of Michigan varsity ice hockey team which plays for the Central Collegiate Hockey Association (CCHA). Built in 1923 as a field house, the facility is named in honor of Michigan's legendary football coach and athletic director, Fielding Yost. A multi-purpose indoor athletic venue, it was one of the first of its kind in the United States. For many years, it housed the Michigan men's and women's basketball teams, until those teams relocated their sporting events to the larger Crisler Arena in 1967. In 1973, it was converted into an ice arena, and the Michigan hockey team has used it ever since. The University of Michigan's Senior and Collegiate synchronized skating and freestyle teams also practice at Yost. In addition, local high school teams, recreational leagues (AAAHA) and the university's intramural hockey league call it home. It has since undergone a number of renovations to modernize its facilities and improve amenities for spectators. Yost Ice Arena's current capacity is 6,637.
On October 21, 2017 the University of Michigan Board of Regents voted to rename the arena in honor of Red Berenson who coached the Wolverines for 33 seasons leading the team to two national titles. The name change will take affect immediately, however the formal ceremony renaming the arena will take place on January 5, 2018 prior to a game against the Notre Dame Fighting Irish.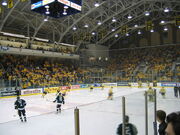 Yost Ice Arena has hosted NCAA Ice Hockey Tournament games five times in its history, most recently in 2003.
History and statistics
[
]
Yost Ice Arena: (1973-present)
Capacity: 8,100 (1973-74 to 1990-91); 7,235 (1991-92 to 1995-96); 6,343 (1996-97 to 2000-01); 6,637 (2001-02 to present)
Constructed: 1923
Dedicated: November 10, 1923
Renovated: 1973, 1992, 1996, 2001
Name Changes: Fielding H. Yost Field House (1924-73), Yost Ice Arena (1973-present)
First Ice Hockey Game: Nov. 2, 1973, a 6-2 U-M win over Waterloo Lutheran
Top single-game crowds
8,411 vs Michigan State: Jan. 29, 1988
8,404 vs Michigan State: Feb. 18, 1989
8,396 vs Michigan State: Feb. 17, 1990
Top weekend series crowds
19,114 vs Cornell: Mar. 15-17, 1991
15,528 vs Michigan Tech: Feb. 27-28, 1981
15,240 vs Lake Superior: Jan. 31-Feb. 1, 1992
Top single-game post-renovation crowds (1996-97 to present)
6,986 vs Michigan State: Jan. 19, 2002
6,984 vs Notre Dame: Jan. 18, 2008
6,983 vs Notre Dame: Jan. 31, 2009
External links
[
]