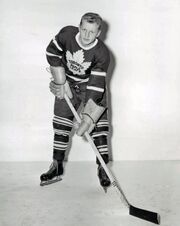 Raymond Charles "Golden Boy" Timgren (born September 29, 1928 in Windsor, Ontario – November 25 1999) was a professional Canadian ice hockey forward.
Timgren started his National Hockey League career with the Toronto Maple Leafs in 1949. He also played for the Chicago Blackhawks. He left the NHL after the 1955 season. He played for the Pittsburgh Hornets of the AHL in 1956 before retiring from hockey. He won 2 Stanley Cups with the Toronto Maple Leafs in 1949 and 1951.
Gallery
Video
Highlights of Game 4 of the 1949 Stanley Cup Finals in which the Leafs win the Cup with a 3-1 victory. Goals by Ray Timgren and Max Bentley are shown.
External Links