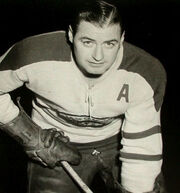 Ray Powell is a retired ice hockey centre. He was born on November 16, 1925 in Timmins, Ontario.
He played junior hockey with the Brantford Lions in 1943-44 and also played two games for the Pittsburgh Hornets. In 1944-45 Powell turned pro with the Baltimore Orioles of the Eastern Hockey League.
In 1946 Powell was traded from the Toronto Maple Leafs to the Detroit Red Wings and then to the Chicago Blackhawks. He saw no action with the Leafs nor the Wings.
He won the Most Valuable Player award in 1949-50 in the United States Hockey League. This helped get him into the Chicago Black Hawks in 1950-51. He played 31 games for the Hawks, scoring 7 goals and 15 assists. This was the extent of his NHL career.
In 1951 the Hawks traded Powell to the Providence Reds. He was the most valuable player and leading scorer in 1951-52.
Powell would play in the minor pros until 1957. He then joined the senior Kelowna Packers of the Western International Hockey League until he retired in 1961.
Awards