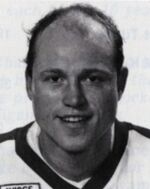 Raymond Joseph Markham
Selected by New York Rangers 3rd round (#43) in 1978 NHL Amateur Draft

was a professional ice hockey player who played 14 games in the National Hockey League. He played with the New York Rangers.
He played for the Notre Dame College and then junior hockey for the Flin Flon Bombers from 1976 to 1978. The New York Rangers chose him 43rd overall in the 1978 NHL Amateur Draft.
Markham turned pro in 1978-79 with the New Haven Nighthawks and played three seasons there. He saw his only NHL action in 1979-80 when he played 14 regular season games with the Rangers, scoring a goal and an assist. He also played 7 playoff games, scoring a goal.
The Edmonton Oilers traded John Hughes to the Rangers for Markham in March, 1981. Markham played in the minors until his retirement in 1984.
Career Statistics
Career Moves
Traded to Edmonton by NY Rangers for John Hughes, March 10, 1981.
External links