Honoured Member of the Manitoba Hockey Hall of Fame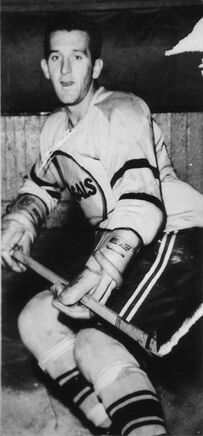 Raymond Clifton Manson
Born: December 3, 1926, in St. Boniface, Manitoba
Hometown: St. Boniface, Manitoba
Died: November 10, 2004 in Winnipeg, Manitoba
Position: Left Wing

spent four years in the Manitoba Junior with four different clubs. ... his best season was 1946-47 when he led the league with 19 assists and 41 points with Brandon. ... the Elks won the league championship that year. ... the Bruin prospect played one game for the parent club in 1947-48. ... spent the rest of the year as a productive scorer with the Boston Olympics. ... in June of 48, was shipped to the New York Rangers to complete the trade that saw Grant Warwick end up in a Boston uniform. ... he recorded an assist in one game for the Blueshirts. ... played 445 minor league games in seven seasons, in the Rangers system, scoring 160 goals and 332 points. ... in 1954, was the top point getter in the WHL playoffs, helping Saskatoon reach the finals. ... released following 1954-55 season. ... signed with Brandon of the WHL. ... would have his best seasons as a pro, scoring 35 goals in 1955-56, and 40 in 1956-57. ... selected to the Prairie Division First All-Star Team in 1957. ... ten years after leading the junior Elks to the championship, Mason led the Regals to the WHL crown. ... retired professionally after the season. ... then joined his hometown Maroons for a crack at the Allan Cup.
Traded to NY Rangers by Boston with Pentti Lund to complete transaction that sent Grant Warwick to Boston (February 6, 1948), June, 1948.
Community content is available under
CC-BY-SA
unless otherwise noted.