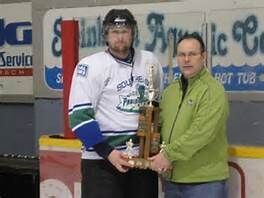 The Don Rathgaber Cup (also called the Manitoba Saskatchewan Senior Playoffs) is the West Region qualifying tournament for a spot in the Allan Cup.  The champions of Manitoba (Pattison Cup) and Saskatchewan meet to determine the region's representative at that year's Allan Cup tournament.
Under the present format for the Allan Cup the event started in 1992. The Allan Cup tournament went from an East-West final format to a round robin format with regional qualifiers starting with the 1992 tournament. 
In some years (1994, 2009, 2012, 2016, 2018) the event was not held due to a lack of teams from other regions of the country (either Atlantic Canada or Quebec) as when a region that is guaranteed a spot in the Allan Cup does not have a team qualify, the spot will traditionally go to a team from the host branch and thus negated the need for a regional qualifier tournament as the host, the Manitoba champion, and Saskatchewan champion would all earn spots for the tournament.
Championships
Note: click on Year for game by game results