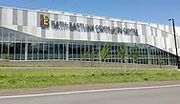 The Rath Eastlink Community Centre (also the RECC) is a sporting facility located in Truro, Nova Scotia that opened March 2, 2013. The facility features an NHL sized (200'x85') arena that seats 3,100 for hockey.  The facility replaced the Colchester Legion Stadium as the main arena in Truro.h
The facility is home to the Truro Bearcats of the Maritime Junior A Hockey League.  The arena hosted the 2013 Fred Page Cup, which saw the hometown Bearcats win the tournament final 3-2 in double overtime to advance to the 2013 Royal Bank Cup.
With the closure of the Dalhousie Memorial Arena in Halifax the women's team from Dalhousie University moved into the arena when it opened.  The arena is about 100km off campus.