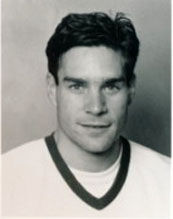 Randolph B. Wood (born October 12, 1963 in Princeton, New Jersey) is a retired former professional ice hockey left winger. He played for the Toronto Maple Leafs, New York Islanders, Buffalo Sabres and Dallas Stars.
He played for the Yale Bulldogs from 1982 to 1986 and then, undrafted by an NHL club, was signed as a free agent by the New York Islanders in 1986.
After playing the bulk of the 1986-87 season with the Springfield Indians, Wood jumped into the NHL and was an Islanders regular for four seasons. He topped the 20 goal mark in three of them. In 1991-92 he was traded to the Buffalo Sabres where he scored 60 goals in three years.
In 1994 Wood was accquired by the Toronto Maple Leafs but his career was already on a downslide. He was traded to the Dallas Stars and then back to the Islanders with whom he retired in 1997.
In the NHL Wood played in 741 games and scored 175 goals and 159 assists. In the playoffs he played in 51 games and scored 8 goals and 9 assists.
Wood played for the United States in the 1986 and the 1989 World Championships and the 1991 Canada Cup.
Community content is available under
CC-BY-SA
unless otherwise noted.