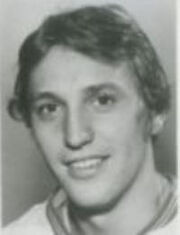 Randy Stephen Pierce (born November 23, 1957 in Arnprior, Ontario) was a professional ice hockey right wing in the National Hockey League (NHL) from 1977 to 1985.
He played junior hockey for the Sudbury Wolves and was chosen 47th overall by the Colorado Rockies in the 1977 NHL Amateur Draft.
Pierce jumped right into the NHL, playing most of his time with the Rockies with only limited time in the minor pros. But his numbers slipped as the years went by, and when the franchise shifted to the New Jersey Devils in 1982, Pierce was sent down to the minors.
He tried to restart his career by signing with the Hartford Whalers in 1983 but only saw limted action over the next two seasons. Pierce played for the Salt Lake Golden Eagles in 1985-86 and then retired.
In the NHL Pierce played in 277 games and scored 62 goals and 76 assists.
External links